Cleaning
Our expertise and experience ensure that the exceptionally high standards with which the Lollypop name has become synonymous are maintained, providing you with the best possible cleaning services.
Maintenance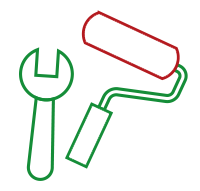 Sometimes things go wrong. When they do, just pick up the phone to Lollypop and a member of our reactive maintenance team will arrange an engineer to deal with your issue promptly and efficiently.

Lollypop has a strong reputation for supplying a wide portfolio of high calibre services. We focus on the non-core activities of your business, so you can focus on your core activities, resulting in improved time management and increased net profits for you. By establishing your needs and expectations from the outset, we are able to deliver a tailor made strategy for each client. Our team then implement and review the plan as your business evolves.
Our People
A skilled, dedicated and motivated workforce spells success. We rely on people who are able and willing to deliver the highest standards of service to our clients.
Help Desk
We use our Help Desk to log, schedule and manage every task we undertake which is essential to how we assess our performance.
Vehicle tracking
Our vehicles are retro fitted with live tracking devices, allowing our help desk to give you updates on the location of your engineer.
Out of hours
Calling our Out of Hours helpline will give you peace of mind.