Driveways
Huge range
Brett and Bradstone
FREE Delivery to Swindon
Your local supplier
Regular offers
Expert advice
Largest display area in the South West. Visit us today and talk to our experts.
If there's anything you can't find please let us know, we're sure we can source it for you. Please don't hesitate to call our experts anytime for free advice on the products available, installation and all things to consider.
Full range of colours and styles on display.
Block Paving
- small sample shown below
Omega
The wide range of colours offers endless scope with the design. A range of three thicknesses make it suitable for most projects, blending in with almost any environment. Use with contemporary kerbs to create functional and attractive boundaries.
Burnt Oak
Red
Brindle
Charcoal
Buff
Ancestory
Autumn Gold
Aura
Tumbled cobbles with a riven surface and delicate shimmer that make a great alternative to granite setts. Ask about our Circle Set to create stunning curves.
Bronze Fleck
Burnt Fleck
Silver Fleck
Alpha Antique
Warm, Rustic tones that blend with any surrounding. With a distressed aged look that blends with most surroundings, it isn't a surprise that this is one of the most popular choices. Ideal for period properties. For more contemporary homes the elegant greys give a sophisticated touch.
Autumn Gold
Antique_Brindle
Burnt Oak
Charcoal
Silver Haze
Alpha & Beta TRIO
Clean lines, flat surfaces and minimal waste. Great looking durable block paving. Mixed size packs contain three block sizes in a pre-determined ratio to create a great look. Available in a choice of colours.
Autumn Gold
Brindle
Silver Haze
Rustic Bronze
Autumn Gold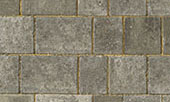 Silver Haze
Rustic Bronze
Beta
Clean lines, smooth surfaces for contemporary drives. A low maintenance solutions which minimises soil collection due to the reduced gap. Available in four sizes the Beta allows for a range of laying patterns to achieve the perfect look.
Brindle
Charcoal
Burnt Oak
Silver Haze
Autumn Gold
Regatta DUO and TRIO
Distinctive with a cobbled look. Regatta is now available in two great pack configurations. The DUO and TRIO can be used individually or combined together to give the ultimate pattern laying flexibility.
Silver Haze
Autumn Gold
Rustic Bronze
Delta
Large format block paving for a modern aesthetic. Fresh, modern and quick and easy to install. Suitable for all types of home.
Brindle
Silver Haze
Autumn Gold
Lugano
Granite effect for a stylish approach to your home. The durable textured surface provides a high level of slip resistance, ideal for many applications.
Graphite Grey
Silver Grey
Kerbs
- small sample shown below
In addition to a wide range of driveway products we also offer a wide range of concrete kerbs which will complement your new driveway - perfectly.
Alpha Antique Autumn Mix & Silver Haze Mixed, plus High Kerb Autumn Mix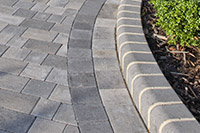 Beta TRIO Silver Haze & Drivestyle Kerb Charcoal
Drivestyle Kerb
High Kerb Charcoal
Mobility Kerb Charcoal
Omega Brindle & Omega Charcoal Edging & High Kerb Charcoal
Rustic Kerb Autumn Mix
For more details and specifications, please visit the Brett website by clicking on the logo below